About Harry & David
Since 1934, Harry & David has grown to become America's premier choice for gourmet gifts. From our handpicked fresh fruit to our hand-packed gift baskets filled with delicious treats, we are committed to providing premium quality and excellence in every way.
A history rich in agriculture and family values, our story started with Samuel Rosenberg, a successful hotel owner in Seattle, Washington. In 1910, Samuel traded his prized Hotel Sorrento for 240 prime acres of pears in Southern Oregon's Rogue River Valley. The soon-to-be-named Bear Creek Orchards were later taken over by his two sons, Harry and David Rosenberg.
Educated in agriculture at Cornell University, the brothers put their training to work. They decided early on to specialize in the Comice pear, with high expectations of its success in the export market to grand hotels and restaurants of Europe. The Rogue Valley exceeded their expectations, proving even better suited to the Comice pear than its birthplace in France.
Harry & David named their luxurious pears "Royal Riviera," setting them apart from varieties grown elsewhere, and throughout the Roaring Twenties, the fame of Royal Riviera® Pears spread as their business boomed.
Following the Great Depression, the brothers' affluent market began to diminish. While there was no question that the Royal Riviera® Pears were unsurpassed in quality, their concern became finding new buyers. Always innovating, the brothers devised the idea of selling their pears by mail.
In 1934, Harry & David set on their famous sales trips to San Francisco and New York, visiting the captains of industry and pitching their pears as the ideal business gift. It wasn't long before the orders were rolling in. It was the beginning of Harry & David as the company grew to become America's first choice for fruit and food gifts.
Today, the company continues to grow and plan for the future, developing new ways to capitalize on the Harry & David brands. Today, we are proud to be one of the nation's earliest catalog mail order companies, earning our reputation for unmatched quality and customer service.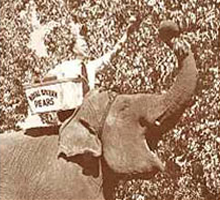 "I can't wait to wake up in the morning and come down to the office and plan all these exciting things."

-David Holmes
Innovation and bold marketing defined the company's early periods of growth. In 1936, Harry & David came up with the idea of the Fruit-of-the-Month Club, which allows customers to automatically send or receive fruit gifts throughout the year. The Tower of Treats, introduced in 1945, provides holiday cheer to thousands of American families. These and other Harry & David innovations have been widely imitated.