Mini Peppermint Bark No Bake Cheesecake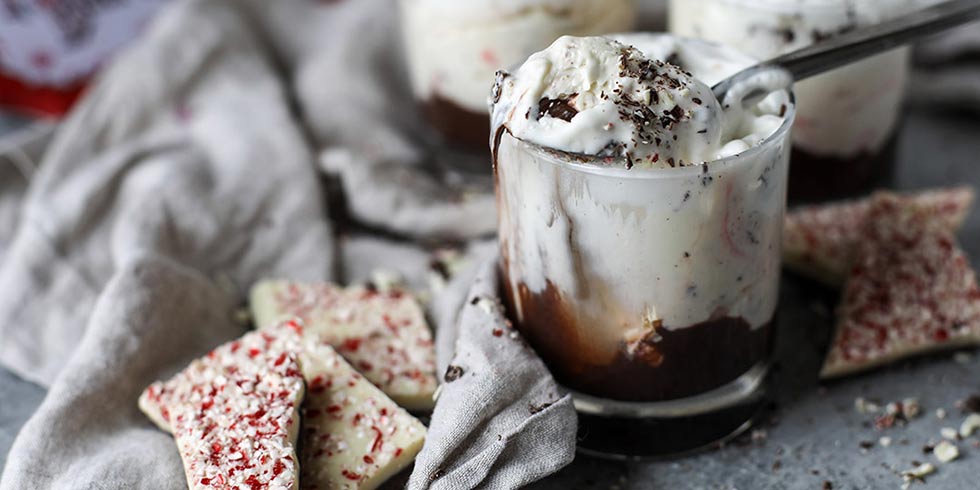 Mini Peppermint Bark No Bake Cheesecake
Jessica Merchant
| Dessert, Chocolate |
American
This no bake cheesecake recipe made with Harry & David Peppermint Bark is rich and creamy without the hassle of a traditional cheesecake. We're so excited to share this delightful recipe using our favorite winter treat.
We find chocolate and mint together to be refreshing, sweet, satisfying in a small amount, and the perfect after dinner treat. As soon as the holidays roll around, we can't wait to get our hands on a box of peppermint bark. We like to eat ours right out of the tin bite by bite and sometimes with coffee, but we always eat it gleefully. However, we usually end up doing something super fun with peppermint bark too! Of course there are traditional desserts like hot cocoa and milkshakes, but we wanted to go a little more outside the box.
Along with our love for chocolate and mint, we have a serious adoration for cheesecake. We love the silky texture and, of course, the flavor. We wanted to try something different though and change it! This is an easy mini portioned no bake cheesecake that can be made the night before your guests arrive, or the night before you want to eat it. It's filled with chunks of peppermint bark and the cheesecake sits on a bed of fudgey chocolate ganache. It's a wintery dream!
Mini Peppermint Bark No Bake Cheesecake
Prep Time: 10 minutes |
Cook Time: 4 hours |
Total Time: 4 hours
Vegetarian
Ingredients
4 ounces high quality dark chocolate, chopped
1/3 cup heavy cream
6 ounces cream cheese, softened
4 ounces mascarpone cheese, softened
2 teaspoons vanilla extract
1/8 teaspoon peppermint extract
1/3 cup sweetened condensed milk
1/2 cup chopped Harry and David peppermint bark
Peppermint bark shards for topping
whipped cream for topping
Instructions
Place chopped chocolate in a bowl. Heat heavy cream in a saucepan until the edges bubble you want it warm, but not simmering.
Pour cream over the chocolate and let it sit for 1 minute. Stir to melt the chocolate and continue stirring until it's smooth.
Evenly spoon the chocolate ganache in the bottom of 4 glasses or jars. Place them in the fridge.
In the bowl of your electric mixer, add the cream cheese and mascarpone. Beat on medium speed until the cheeses are mixed and slightly creamy, then drizzle in the condensed milk with the mixer still going.
Add in the vanilla and peppermint extracts and beat the mixture until it is creamy and smooth, scraping down the sides if needed. Fold in the chopped peppermint bark.
Remove jars from the fridge and top the ganache layer with the cheesecake layer, smoothing out the top with a spoon.
Place cheesecakes back in the fridge for at least 2 to 4 hours, or until you're ready to serve.
Before serving, top with whipped cream, peppermint bark shards and a few chopped pieces of bark.
These actually stay fresh in the fridge for a few days cover them in plastic wrap and skip the whipped cream until right before serving.
Makes: 4 mini cheesecakes
Serves: 4 servings