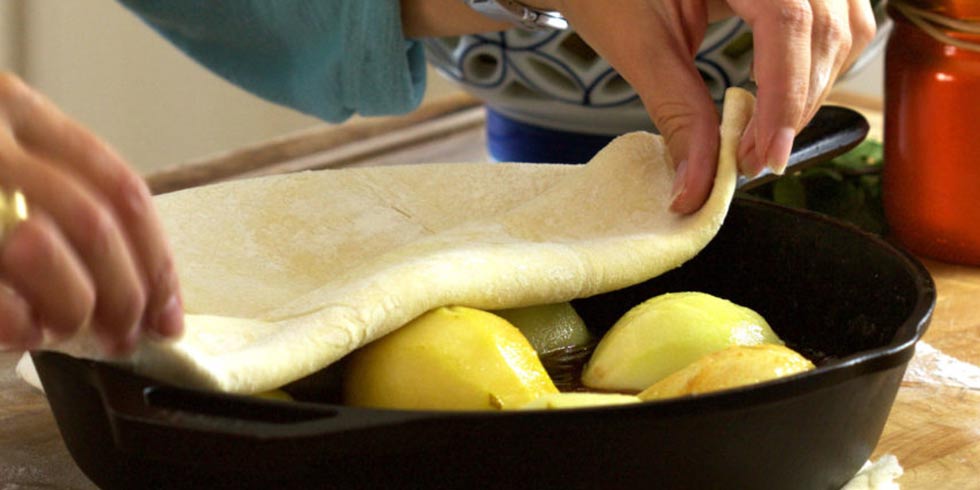 Elegant Pear Tarte Tatin
Kellie Hemmerly
| Dessert, Pears |
American
Sweet and buttery pastry baked with juicy Royal Rivera Pears makes this easy-to-make Pear Tarte Tatin an elegant dessert for fall and winter. Served with a dollop of whipped cream or a scoop of vanilla ice cream, this gorgeous tarte tatin will be the centerpiece of any holiday meal.
Royal Riviera Pears are wonderful all on their own and this simple Pear Tarte Tatin Recipe really allows them to showcase their juicy, buttery flavor. Baked in a cast iron skillet, the pears become caramelized and sink down into the puff pastry like a sweet, flaky blanket. This tarte tatin couldn't be more delicious or any easier to make. Pears are peeled then sliced in half before being cored and tossed with sugar.
A buttery caramel sauce is made in the skillet and then the pears are added creating a wonderful sauce that will melt into the puff pastry. Layer a sheet of store-bought puff pastry on top of the pears and tuck in the edges before baking. Once the Pear Tarte Tatin is ready, carefully invert onto a serving platter and allow to cool to room temperature before serving. One slice and you will declare this the best dessert fall has to offer!
Elegant Pear Tarte Tatin
Prep Time: 15 minutes |
Cook Time: 25 minutes |
Total Time: 40 minutes
Vegetarian
Ingredients
4 Royal Riviera Pears (Comice pears), peeled, cut in half and cored
1 cup plus 3 tablespoons granulated sugar
Juice of half a lemon
5 tablespoons salted butter
1 sheet puff pastry, thawed
Flour for rolling out dough
Instructions
Preheat oven to 425 degrees.
In a large bowl, toss the pears, 3 tablespoons sugar and lemon juice to combine. Set aside.
In a large skillet over medium heat, melt the butter and then stir in the sugar.
Cook the sugar mixture, stirring constantly, until golden brown and caramelized. Turn off the heat and allow the sauce to cool slightly, the color will darken as it cools.
Place the pears in an even layer in the skillet round side down with the stems facing inward.
On a lightly floured surface, roll the dough out to approximately 11 inches. Cut off the corners to form a circle approximately 1 inch larger than your skillet.
Place dough over the pears. Tuck the edges down between the pears and sides of the skillet.
Cut 4 small holes in the top of the pastry and bake for 20-25 minutes or until golden brown and puffed up.
Place a large flat serving platter on top of the skillet and, very carefully and quickly, invert onto the platter.
Serve warm or at room temperature.
Makes: 1 tarte tatin
Serves: 6 to 8 servings