Peach Iced Tea with Honey-Peach Simple Syrup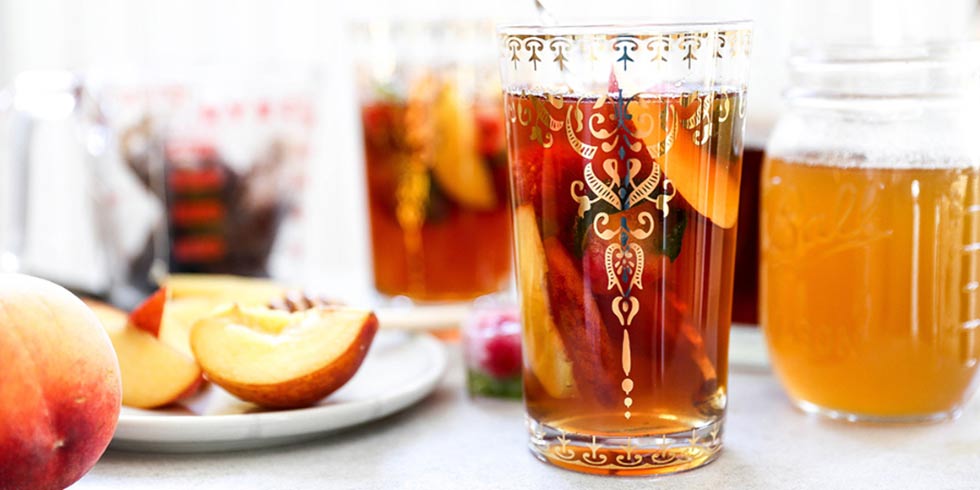 Peach Iced Tea with Honey-Peach Simple Syrup
Liz Harris
| Drinks, Peaches |
American
Revamp your plain iced tea and try this peach iced tea made with homemade peach syrup! This delicious Honey Peach Simple Syrup-Sweetened Iced Tea recipe hits the spot during those hot and humid months. Plus, the addition of Harry & David Oregold Peaches will take this drink to the next level.
Sipping on a tall glass of this Honey-Peach Sweetened Iced Tea is a great way to help you feel refreshed, even on the hottest of days! To create this drink, use Harry & David Oregold Peaches that are at their peak of ripeness to make a peach-flavored simple syrup. This simple syrup uses honey, rather than granulated sugar since honey has such a rich flavor, and combined with peaches, it's just pure gold! Another great addition to this peach iced tea, are fun ice cubes with raspberries and mint leaves! To make these ice cubes, simply add fresh raspberries and mint leaves to an ice cube tray, fill with water and freeze. Both the ice cubes and honey-peach simple syrup can both be made in advance and stored in your freezer and refrigerator, respectively, until the opportunity arises to jazz up a glass of peach iced tea.
Peach Iced Tea with Honey-Peach Simple Syrup
Prep Time: 1 hours |
Cook Time: 5 minutes |
Total Time: 1 hours
Vegetarian,
Ingredients
For the ice cubes
Fresh raspberries
Fresh mint leaves
Water
For the honey-peach simple syrup
For the iced tea
Instructions
To make the ice cubes, place a fresh raspberry and a few small mint leaves into each of the wells of an ice cube tray. Fill with water and then freeze until solid.
To make the honey peach simple syrup, combine all the ingredients in a medium sauce pan and bring to a simmer, stirring occasionally, for 5 minutes.
Then turn off the heat, cover the sauce pan and let the mixture steep for 20-30 minutes.
Strain and collect the liquid into a clean container, collecting and discarding the peach solids. Refrigerate until completely chilled before using. The honey-peach simple syrup can be stored in a sealed container in your refrigerator for 1-2 weeks.
For the peach iced tea, stir together 1 cup of the brewed black tea with about 2 tablespoons of the honey-peach simple syrup, using more or less to suit your taste preferences.
Pour over the ice cubes and garnish with a few slices of fresh peaches. Enjoy immediately.
Makes: 1 pitcher
Serves: 3-4 servings