Chardonnay Poached Pear Salad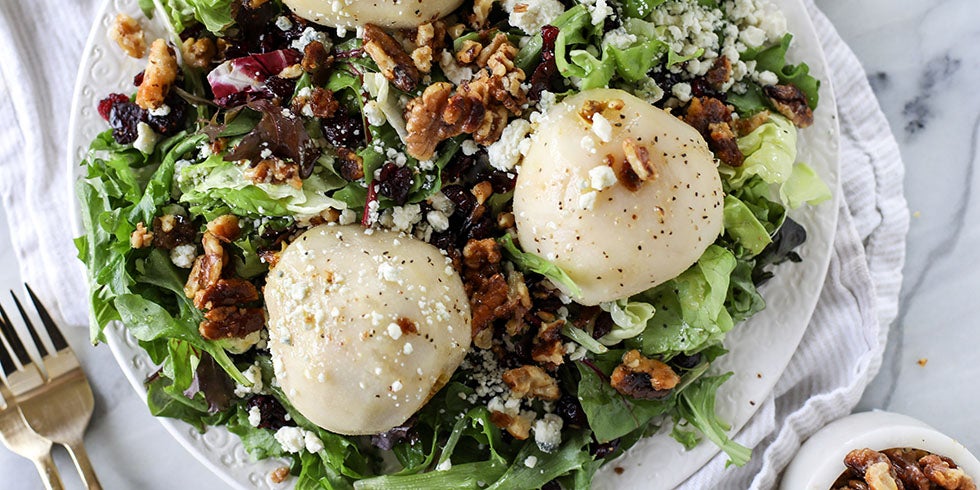 Chardonnay Poached Pear Salad
Jessica Merchant
| Lunch, Appetizers, Pears |
American
Royal Riviera Pears and Harry & David Chardonnay are a perfect pair. This tasty poached pear salad recipe features both to create a sweet and savory dish.
The dry white Chardonnay works well with a savory salad and sweet pears. Poaching pears is insanely simple. You heat your wine in a saucepan and once it's simmering, add those pears and simmer until just fork-tender. Other delicious things that can be found in this winter greens mix: dried cranberries, tangy and creamy blue cheese and spiced candied walnuts. So good! It's a texture-lover's dream. Not only is the salad super flavorful, it's so much more satisfying than you expect. It's a lovely happy hour dinner or even the most perfect lunch for yourself.
Chardonnay Poached Pear Salad
Prep Time: 10 minutes |
Cook Time: 0 minutes |
Total Time: 10 minutes
Vegetarian
Ingredients
For the salad
1 bottle Harry & David Chardonnay
3 Royal Riviera® Pears, peeled and kept whole
2 tablespoons unsalted butter
1 cup walnuts, chopped
1/4 teaspoon cinnamon
1/8 teaspoon cardamom
6 cups spring greens
1/3 cup dried cranberries
1/4 cup crumbled blue cheese
For the Chardonnay Vinaigrette
2 tablespoons Harry & David Chardonnay
1 tablespoon champagne vinegar
1 tablespoon honey
1 teaspoon Dijon mustard
pinch of salt and pepper
1/4 cup olive oil
Instructions
Reserve 2 tablespoons of the Chardonnay, placing them in a bowl. Pour the rest of the wine in a saucepan and heat it over medium heat.
Once simmering, add the peeled whole pears to the wine. Simmer until fork tender, about 10 to 12 minutes. Gently remove the pear and place it on a plate.
While the pears are simmering, heat a skillet over medium heat and add the butter. Toss in the walnuts, sugar, cinnamon and cardamom, stirring to combine.
Cook, stirring often, until the walnuts become golden and candied, about 6 minutes. Pour the walnuts on to parchment paper and let cool completely.
To assemble the pear salad, add the greens on a large plate or in a bowl. Season with a pinch of salt and pepper. Place the pears on top and slice them half way down not all the way through. Sprinkle with the blue cheese, cranberries and candied walnuts. Drizzle with the vinaigrette and serve!
Chardonnay Vinaigrette
Whisk together the chardonnay, honey, Dijon, vinegar, salt and pepper.
Stream in the olive oil until emulsified. Keep sealed in the fridge for up to a week.
Makes: 1 salad
Serves: 2 to 4 servings